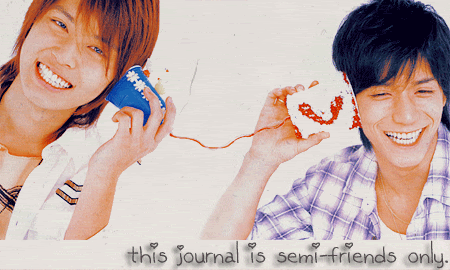 Hi there. I'm basically like just any other fangirl. I'm currently 17 (and the thought of turning 18 next year freaks the hell out of me because I want to stay 17 forevar) and I love JE.
NEWS is #1
mainly, Ryo and Tegoshi
because they're so adorable and I think it's a sin to NOT love them.
Other than NEWS, I fangirl over ARASHI and KAT-TUN as well because they're so awesome.
I have a
list
of reasons to why I love NEWS (but of course, that's not all). I'll come up with one of ARASHI and KAT-TUN some time soon.
Oh, you can call me Christy (Just so you know, that's only my screen name)
I spend my free time watching any drama or TV programmes related to JE. Cartoon KAT-TUN, Himitsu no Arashi-chan, Arashi no Shukudai-kun, D no Arashi, and the list goes on. I'm pretty much a drama addict as well.
(
List of dramas/specials/movies
Collapse
)
I suck at introducing myself. So I'll just leave it as this. But there are some things I'd like to note first :D
I tend to rant A LOT. Really.
Sometimes, I like to poke fun at JE boys, so if you're gonna bash me for that, stay away?
I'm RyoTego biased.
Lastly, I tend to be spontaneous and might say inappropriate things at inappropriate times.
Okay, I think I just gave all the reasons NOT to add me
. o.O
Friends lock because of personal reasons. Comment to be added. I'm pretty friendly (seriously!) and I'm always up for new friends. :D
WARNING
: I tend to go on caps frenzy and smashing my keyboard like there's no tomorrow whenever I'm hyped up because I'm spastic like that. If you're the same, ADD ME AND WE SHALL BE FRIENDS. HURHUR.
Current Mood:
bouncy